If spot is higher or lower than the based price, you will get credit or owe more, for the difference. 

   That is fair to both of us. 1800

Hit refresh button on your browser to refresh chart.


C and G  inv      9822 Buckingham Lane  Berlin, MD 21811    Cande & Greg White

Maryland's Largest Coin & Bullion Dealer!

( Well, Berlin's anyway. )

We accept VISA/MC, personal checks, cashier's checks, money orders, cash and PayPal.

All prices subject to change. Special order items ( dated, engraved, sized, custom) are not returnable.

Bullion items are only returnable at market value.  No credit cards on bullion items. 

Most items in stock and ready to ship, except for Special Order items. 

Large, bulky, or heavy items may require extra postage. See 
order options
 link to view our minimal shipping charges. E-mail any questions.                          










Thank You 
, 
Cande & Greg
NOTE:

If any page does not look right or load fully, your viewer may require you to click on "Reload" or to update your browser.

C and G  Coins



Phone 410-641-0023
Celebrating business Since 1972.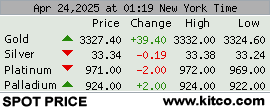 Well, other than a little price gouging, thinks have returned to a NEW normal.

Some suppliers have 2020 silver eagles, they are going for $5 to $8 higher than normal.  But....they are coming down.

Many people want bullion, and have money to buy it. But it is hard to get....at times. BUT.....again, it is getting better.

I hope things will eventually get to normal....but it may be a "new normal" that most of us have never seen before this. Stay healthy and safe please, protect your family.

A few products below.      THANK YOU.  GREG

CASH PRICES SHOWN

Buttons will add for PP/Ins

90% Silver Bag - $10 face value

Dimes (100 pieces) or

Quarters (40 pieces)......... $185.90

Button price = $203.16

90% Silver Bag - $10 face value

Halves (20 pcs)................ $170.90

Button price = $188.16

90% Silver Bag - $10 face value

Walking Halves (20 pcs)... $190.80

Button price = $209.90

90% Silver Roll - $10 face value

Uncirculated Kennedy  Halves

......................................... $180.90

Button price = $197.16

THE MATH ON THESE.....

Figure out what you get. 

If there are 715 ounces (and there are over that) in a thousand dollar face bag, then the full silver melt value is:

Spot silver x 715 ounces = silver value. 

So, if silver is $18.00, then.......

$18.00 x 715 = $12,870.00 in silver melt value alone! These bags are priced for a little more than melt.

Then, factor in what you want to for coin value.

We will make every attempt to fill as requested, but often we are out of one or the other types.